Context
Central Equity, Multiplex, RMIT University and Wonderment Walk Victoria have partnered on a second research and student project for this Healeys Lane site.
In the spirit of the Exquisite Corpse, students have responded to a visual curatorial proposition and each preceding artist response in turn.
Their responses consider how construction work impacts the people travelling through and past it. These artistic interventions aim to create a moment of pause in the daily bustle of city life. They are an opportunity to engage with the rhythms of the city, the demands of contemporary life and the possibilities of society's collective ambitions.
Grace Leone, Curator, RMIT University and Julia Mihai, Project Manager, Wonderment Walk Victoria have co-curated this project. The co-curators jointly created the curatorial proposition.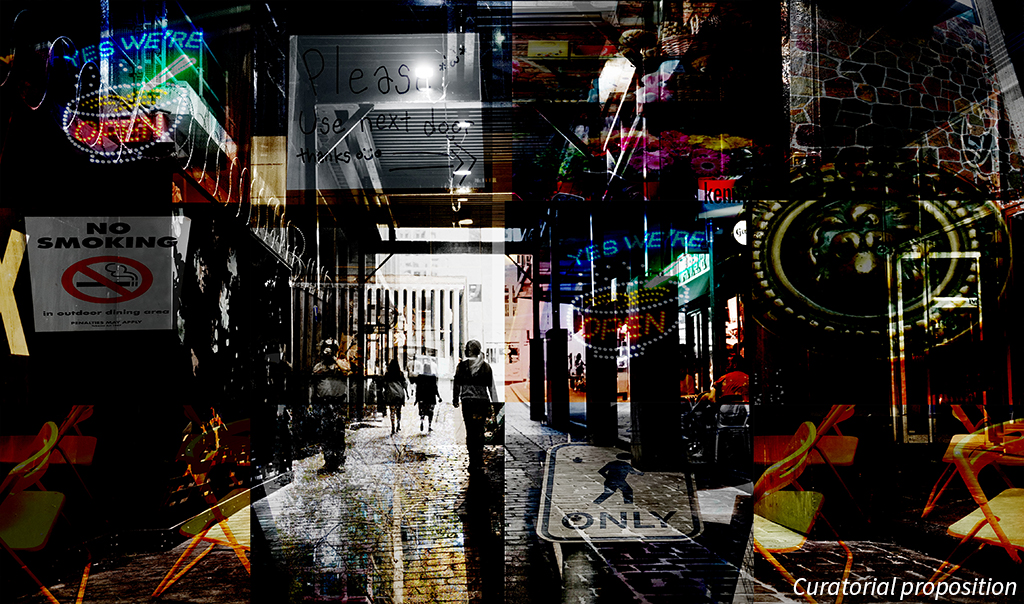 Artist Statements and Biographies

Supertext, Sarah Walker
The city is deeply inscribed with language that makes demands on the public. Shop signage entices us, street signs direct us as traffic and advertising directs our spending. This artwork uses the public-facing intrusion of the hoarding to expose, interrogate and subvert these authoritative demands on our time, attention and money.
By comically emphasising the expectation that public text traditionally tells us how to behave, the work seeks to reframe social relationships with street signage and advertising. It appropriates the existing signage in the lane to demonstrate the implicit calls to control that exist in the space, and mashes them up to a state of powerless nonsense. It also draws attention to the areas of the lane that are not inscribed – the floor and the sky, creating space for reflection in a mass of words.
Sarah Walker is a Melbourne-based artist, photographer and writer. Her work uses humour and theatricality to explore catastrophe, disaster and existential dread. Recently, she was a finalist in the 2019 MTV RE:DEFINE Award and the fortyfivedownstairs Emerging Artist Award. She won the 2016 CCP Salon Best Portrait Prize, and has been a finalist in the National Photographic Portrait Prize and the Maggie Diaz Photography Prize for Women. She was runner-up in the 2019 Calibre Essay Prize. She is also an award-winning theatre designer and director and co-host of podcast 'Contact Mic.' She is currently completing a Master of Fine Art at RMIT.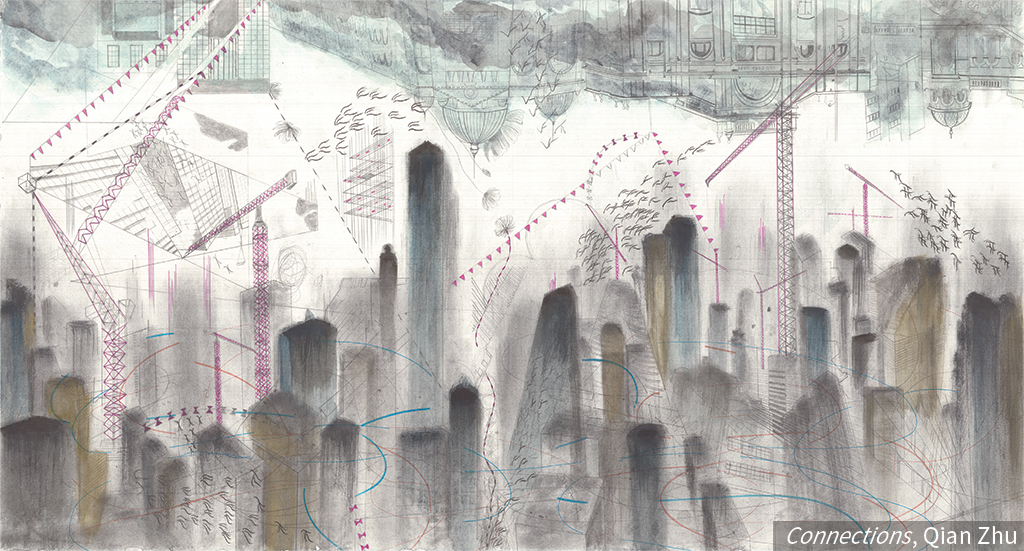 Connections, Qian Zhu
What are the energetic forces at play in our urban spaces? For me, there is a strong creative force emanating from the architects and designers of our cities. They give our landscape structure and solidity. Community interacts with this energy as people move through the buildings and public spaces laid out for us. There are also the energies of history and modernity built into the fibre of our cities. They are both personal histories and collective histories that can be actively reflected on and preserved, even as we make way for the new. I've tried to capture something of this abstract energetic force as it swarms the city, giving it life and vibrancy. I'm interested in our energetic or emotional connection to the built form and the dynamic ways this energy travels through the city.
Qian Zhu is a Melbourne-based artist, currently studying a Bachelor of Fine Art at RMIT. She is a multidisciplinary artist working across print making, sculpture, installation and painting. Her work usually responds to her experience of her everyday surroundings.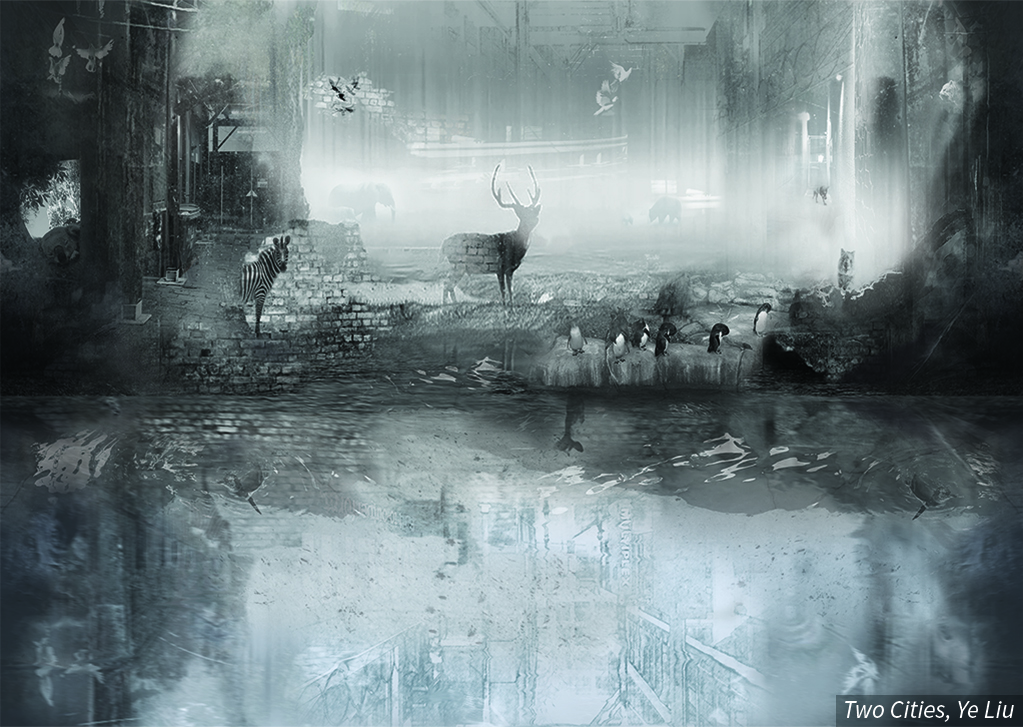 Two Cities, Ye Liu
'It was the best of times, it was the worst of times, it was the age of wisdom, it was the age of foolishness. . . we had everything before us, we had nothing before us, we were all going direct to Heaven, we were all going direct the other way' – A Tale of Two Cities, Charles Dickens.
Using digital photography and Photoshop I've created my own narrative around two cities merging together. One is our society today and one is an imagined future where endangered animals from all over the globe walk amongst us, or perhaps inhabit our cities without us. I'm interested in the portrayal of multiple dimensions of time and space, particularly possible future realities. I am calling attention to the plight of endangered species and our impact on their environment by exploring what it may look like in a future where they took back the city. 
Ye has created the soundtrack below to accompany her artwork. She created it on Logic Pro, merging more natural sounds with the urban sounds collected from Lonsdale Street. She hopes it will intensify the viewer's perception of the work. Listen to the soundtrack of Two Cities here.
Ye Liu is an emerging artist focusing on social engagement practices. Born in Eastern China in the historical city Xuzhou, Ye has been interested in culture and history from childhood. In 2016, she completed a Bachelor of Art at the University of Shanghai for Science and Technology. Now she is studying Art in Public Space at RMIT.
Ye's art connects environmental issues with social and cultural issues. Her work explores how creative practice can illuminate communities and their experiences. She enjoys using symbolism in her work to encourage audience discourse. For her, art encourages people to discover connections between themselves and the world.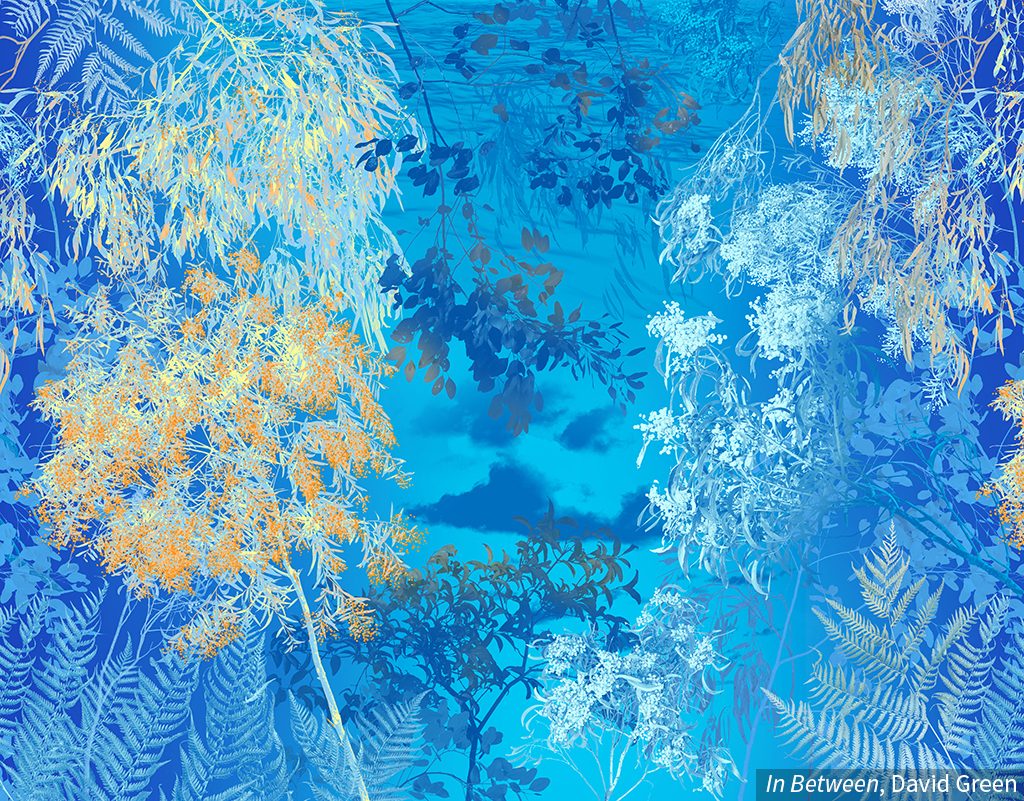 In Between, David Green
In Between is a site-specific artwork that invites viewers to immerse themselves within an altered virtual landscape. The artwork acts as a way to reconcile and reconstruct the past local ecology within the current built environment.
Using technology as a means to generate and shift meaning within photographs, I created the digitally altered landscape of In Between. It features a historical representation of the local ecology that existed within the area. It has been reinterpreted through a change in the colours to reference the current visual surroundings that form an individual's perception of place within Healeys Lane. The visual atmosphere that the work responds to is made from elements of the site's current neon lighting and bright saturated colours of the lane's shop facades. The bright colours within the work attempt to alleviate the visual darkness within the site. The work introduces vibrancy and offers an alternative reality to the current disruptions caused by development.
David Green is an emerging artist and fine arts student who is driven by interests in perception, place, the environment, and feelings of self. His work spans the mediums of photography, projection, and installation. Not limited to the bounds of the gallery, David's practice also engages with the public field through temporary interventions within civic space.
David's art practice is an important means for him to turn theoretical ideas into the physical, a process he believes is a catalyst for thoughtful conversation and introspection.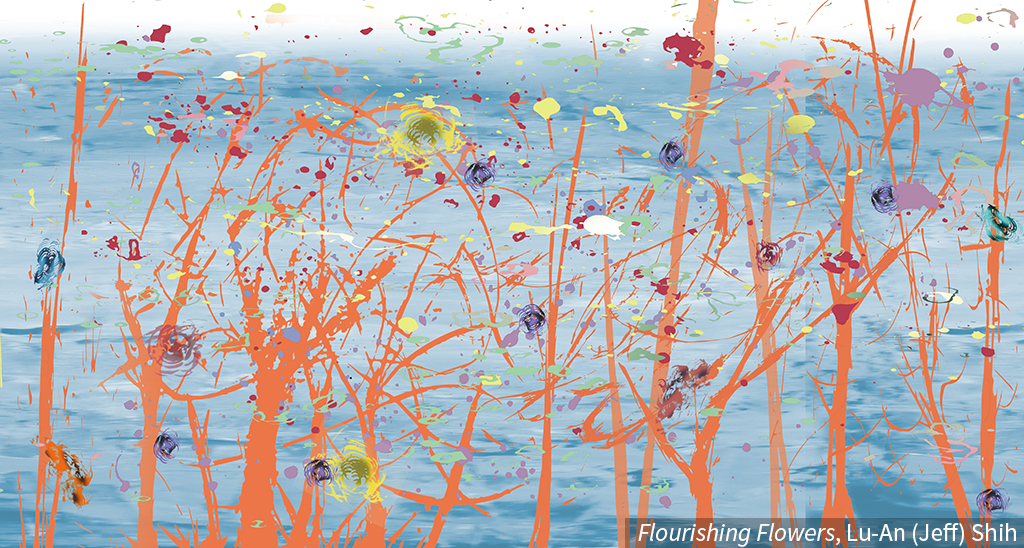 Flourishing Flowers, Lu-An (Jeff) Shih
When I think of Healeys Lane, I think of the shadows cast by the construction site. It is a hidden place within the city. I also think of the lane's potential as it transforms into a different environment. I think of the architectural and structural elements appearing as growing, prospering and spreading, much like wildlife. Plants, trees and flowers were perfect choices for me to express this synergy and also what I want for this place - vibrance. I wanted the artwork to be direct, simple, and bright with a sense of movement so that people can feel refreshed while moving through the space.
Lu-An (Jeff) Shih, is a first year painting student. He came to Melbourne to study art as this is has been his dream for a long time. His interests include cities, politics and people. He likes to express his thoughts and tell stories through his artworks.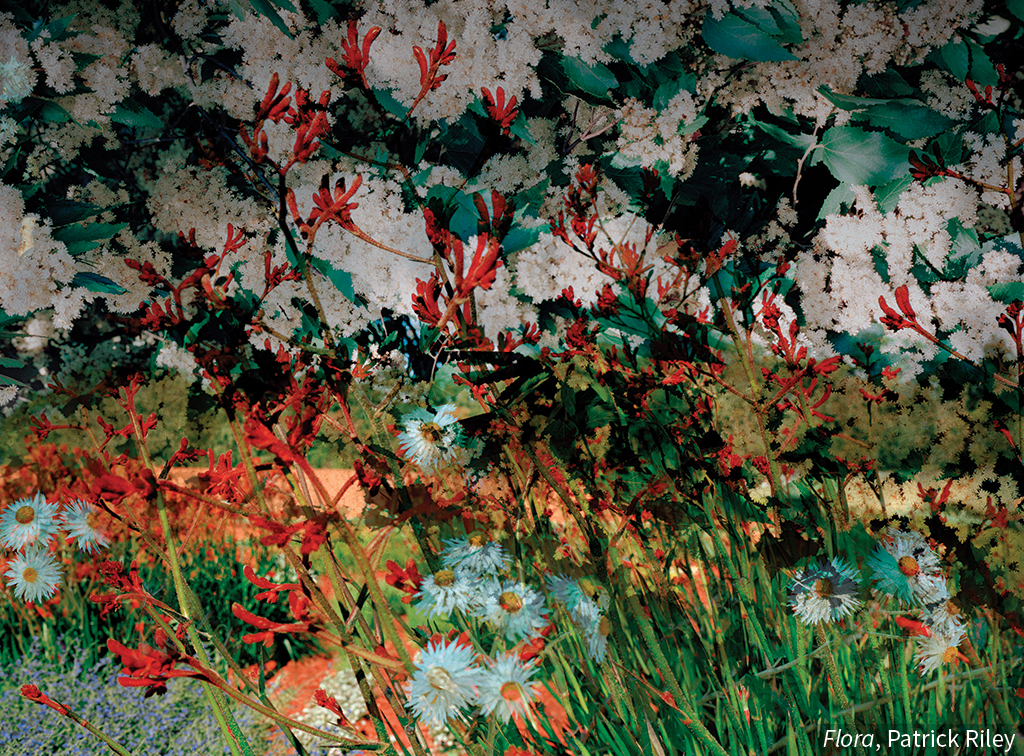 Flora, Patrick Riley
In conversations surrounding sustainable development, architectural design practice is now shifting towards the inclusion of green spaces and renewable materials.
In Flora, the artist has attempted to create a digital green space in Healeys Lane by implementing carefully photographed Australian flora.
Through digital collage, native plants have been overlayed to bring nature into the urban space. This highlights the mutually beneficial relationships between city dwellers and the natural environment.
Incorporated into the work is the Rhodanthe, known more commonly as the 'sunray'. Also included is the Commersonia, which was traditionally used by First Nations people to make nets for catching wildlife out of its fibrous bark. Hidden beneath the layers is the red Anigozanthos which can reach up to 2 meters high – about the size of the structure Flora has been installed on.   
There is a transient nature in which plants flourish, and this mirrors the ebb and flow of the laneway through its peak times.
Patrick Riley was born in Hobart. He studies the BA of Photography at RMIT and has completed the International Photojournalism intensive at the Danish School of Media and Journalism.
His artistic practice is expansive but maintains its roots in both fine art and documentary story-telling. His work is concerned with the nuances of the everyday, and how individuals and objects are tied to time and place.