Context
Central Equity, Multiplex, RMIT University and Wonderment Walk Victoria have partnered on a research and student project. 
Rain by Houzhi Du is the winning submission chosen from a series of proposals designed by multidisciplinary RMIT students focused on creative outcomes. Contributions included those from the School of Art, School of Media and Communication, School of Architecture and Urban Design and from the School of Economics, Finance and Marketing. 
This project is intended to engage with the public face of a construction development site. This project involves the development of an art installation applied to external hoarding erected at Central Equity's Melbourne Grand development site at 560 Lonsdale St, Melbourne. 
By combining artistic creation and scientific techniques, the artist hopes that it brings engaging experiences to people and encourages them to rethink the meaning of modern life.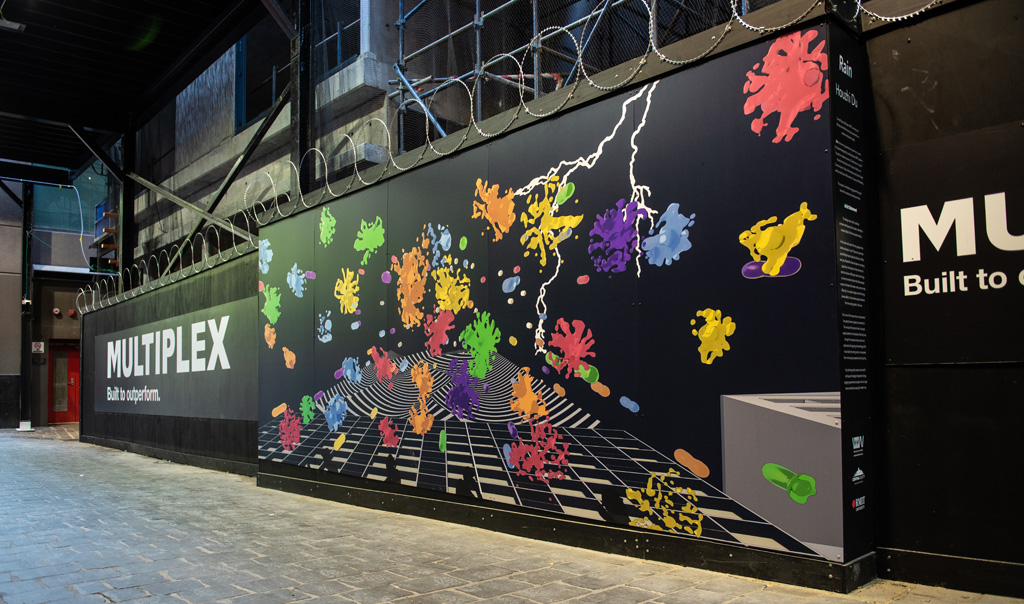 Artist Statement
This design work, which combines computer technique and art creation, attempts to recreate details of the micro-sized raindrop.
In the hustle and bustle of the city, people in the street are always in a rush. Those who have a fast-paced lifestyle have to deal with all kinds of affairs every day. Meanwhile, there has been increasing popularity in the utilisation of the Internet and electronic devices. Although modern technology is a more convenient solution that allows people access to the latest information and to communicate efficiently, it is a double-edged sword that brings adverse effects. It has diverted people's attention from the exciting details of real lives.
Rain is one of the most common components of life, people have long been accustomed to it. The concept of this piece of work is to arouse people's attention to the details of their daily lives through micro-sized raindrop creation and reproduction. By applying the technology of virtual reality, the raining scene is reinterpreted from a microscopic perspective by this painting.