The O Initiative fountains in the Newgate estate incorporate public art and public amenity. Commissioned by Central Equity in collaboration with Wonderment Walk Victoria and Wyndham City Council, they are engaging, socially conscious pieces of infrastructure gifted to the new community. The O Initiative fountains encourage healthy and active communities. The sculptural fountains will provide wayfinding and identity within Newgate as well as encourage the community to consider how they may play their part in nurturing the surrounding environment – such as by refilling their water bottles instead of using single-use plastic. Each fountain features a mural by a local artist.
The O Initiative, Newgate Project Case Study
DMR
"After being approached to create this fountain design, I hopped out of my car and spotted a grass frog. This was such a coincidence as I hadn't seen one in almost 20 years. I walked to the dam on my property and put the frog prematurely back into the grass alongside the dam. Realising I was in need of some photos of a frog for this project, I scooped him back up and took him home for a quick photo shoot and then returned him to the water."
"As I printed out the photos that I had just taken, I realised the frog was the exact shape of the O Initiative fountain. I felt that the glowing gold eye would be reaffirming for patrons using the fountain, representative of the frog design and the nearby frog reserve. The amazing paints are vibrant golds, silver, coppers and greens making it stand out as a conversational piece, while also enabling it to sit comfortably within the reserve's lush, colourful environment and catching the sun's glow on occasion."
DMR is a self-taught Australian artist. She is passionate about her art and her many subjects. Growing up in the Western suburbs of Melbourne, DMR spent most of her time outdoors, searching the wetlands, looking for earthly treasures to admire. This drew her closer to her concern for the environment and her need for knowledge. DMR's message is one of conservation and sustainability.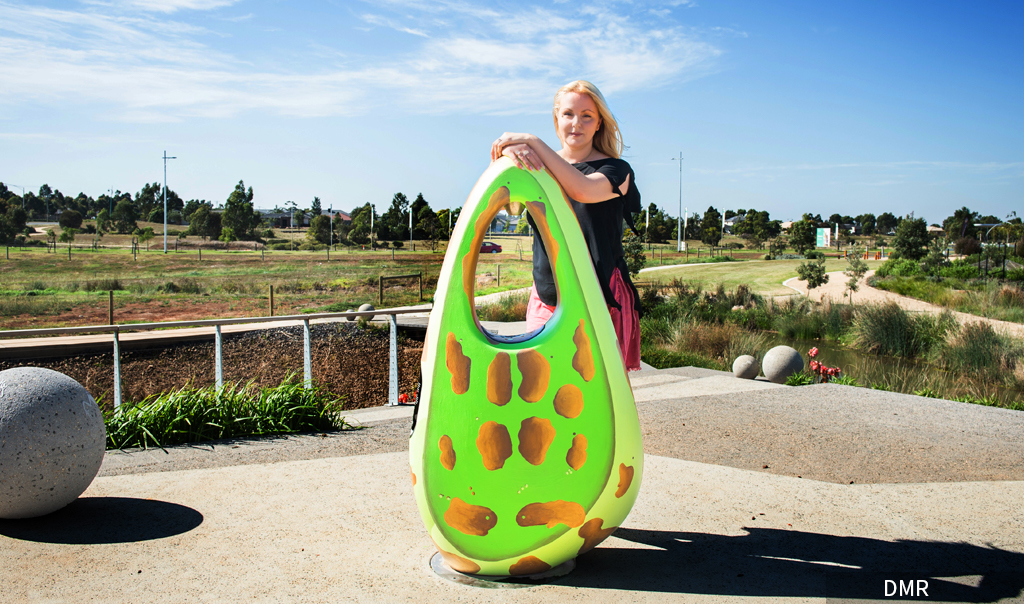 Elizabeth Dalton Hooker
"One side of this fountain features a moment in the present, the mother bird bringing food to her young. The other side is a moment in the future. The babies in the nest have grown and now have fledgelings of their own to care for. This is symbolic of perpetual generations, which ties in with my overarching design theme of the imperative for conservation today, for the benefit of those who will come tomorrow."
Elizabeth Dalton Hooker is a mural, public installation and drawing artist from Western Melbourne. Her practice encompasses fine art and a refined street art aesthetic. She uses symbolism and allegory to present narratives about contemporary life. She is influenced by art history - particularly Classical figuration and the High Renaissance. Her compositions are built on poppy colour pallets, skewed perspectives and bold, striking line work.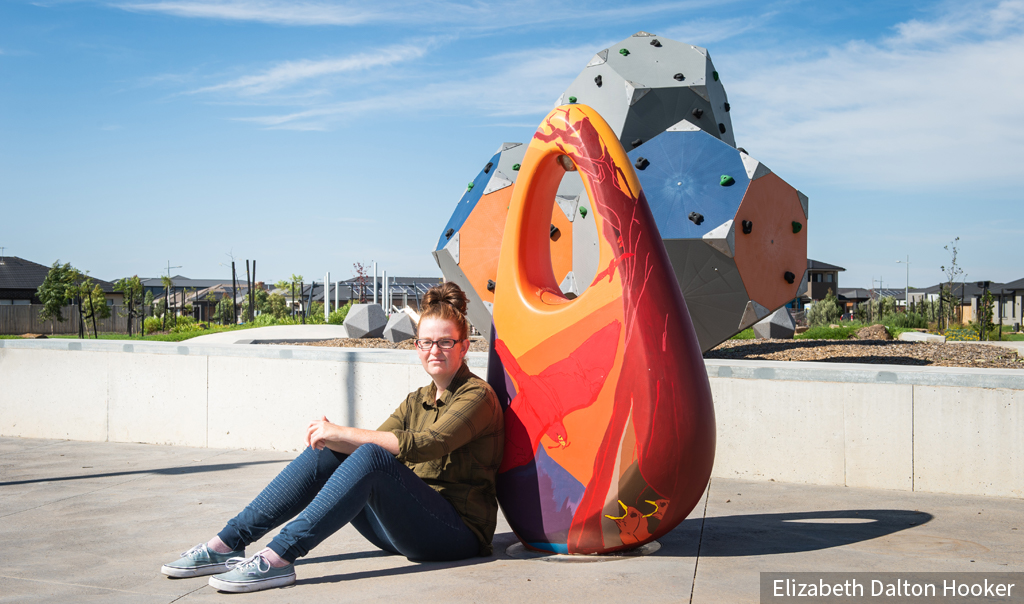 Jessica Jane
"This mural is centred around the happenings in Trentbridge park and playground. Parts of the playground are featured in the illustration along with surrounding plants and dogs on walks!"
Jessica Jane is an exhibiting artist, illustrator and designer from Melbourne. Jessica Jane completed a Bachelor of Illustration at Melbourne Polytechnic in 2016 and has since been exhibiting in galleries and artist markets. Her work can be described as whimsical and feminine with interests in nature, animals and costume.