Artist Statement
'Celestial Ground' is an embodiment of the scientific ideas of astronomy, observation, geometry, and mapping. The folding plates of the form are loosely based on the geometric diagram of a form of carbon(C60) that has been found in outer space. Some panels are etched with images and constellations from the southern night skies providing a visual reminder of what remains hidden from view during the day. The mirror-polished panels reference telescopic observations of the skies, but also invite the viewer to reflect upon their own place within the universe, whether that be amongst the stars above or on the solid ground beneath.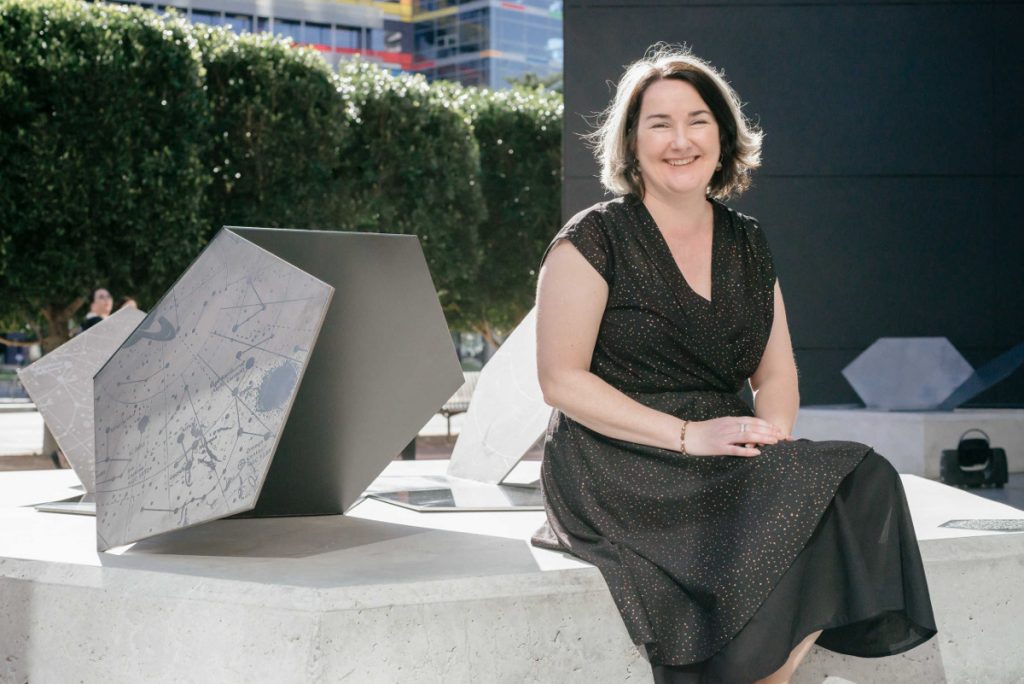 Images of the work courtesy of Keelan O'Hehir 
Artist Background
Dr Colleen Boyle is an emerging, Melbourne-based artist who recently received her PhD from RMIT University. Initially trained as a printmaker, Colleen has recently expanded her practice to include sculpture and installation.
Colleen now primarily makes objects. Her conceptual base is firmly grounded in photography and how, when put in the service of the human imagination, it reveals aspects of the world that would otherwise remain unseen. This links to her ongoing interest in astronomy and space exploration which, was first ignited when her grandfather took her to see a matinee of the film Star Wars at the Yea Town Hall in 1977. Aside from the wonder of the film itself, the windows had been blacked out with previously used black plastic and all the little holes glowed like shining stars.
After receiving her Honours degree in Fine Arts (printmaking) at Monash University, Colleen went on to study art theory and history at The University of Melbourne. She worked as part of the inaugural production team for the Melbourne Planetarium at Scienceworks, and then at Melbourne Museum where she brought the humanities and sciences together in public programs at Melbourne Museum for ten years.
Project History
Celestial Ground was commissioned by Wonderment Walk Victoria in collaboration with RMIT University and Victoria Point. As part of the project, artists Dominic Redfern, Malte Wagenfeld and Colleen Boyle were invited to develop a concept, responding to the chosen Victoria Point site. We were looking for an artwork that would be functional, engaging and enduring, giving the public entry space to the building a unique identity. Colleen was selected by a panel including representatives from RMIT, Wonderment Walk and CAST. Together, we developed the initial selected concept and worked closely to produce and install this glorious public artwork.
Videos
Celestial Ground – Launch  from Wonderment Walk on Vimeo.
Celestial Ground – Artwork Insights  from Wonderment Walk on Vimeo.
Celestial Ground – Launch Speeches   from Wonderment Walk on Vimeo.