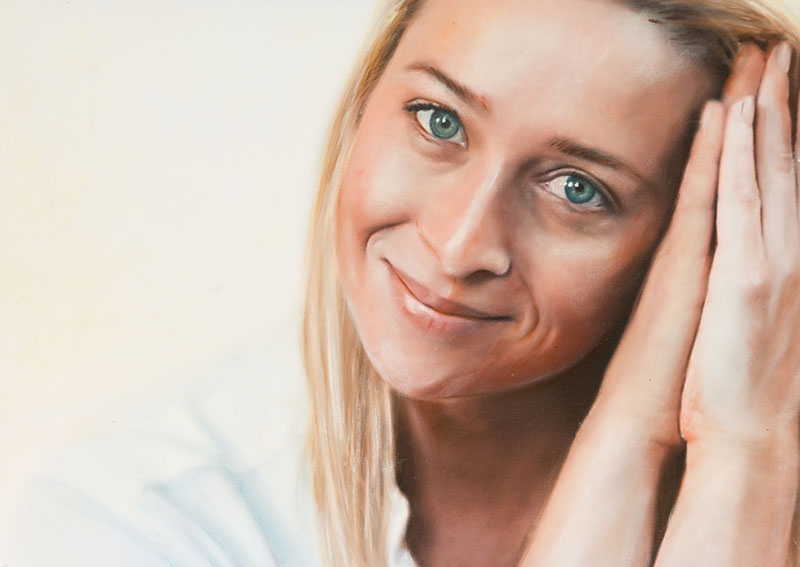 Modern portraiture, authentic public figures, what inspires us – these are but a few of the talking points generated from
Vincent Fantauzzo
's
30/30 Project
. Commissioned four years ago now, this collection is just as relevant as ever and is still very much encouraging debate and igniting a creative spark in those who take it in. Responses to the collection's most recent display at
Benalla Art Gallery
earlier this year included –
"An intriguing concept to bring art to the people and go beyond the usual haunts. Pleasing to see Vincent Fantauzzo's work in the North East. Portraits make you want to know more about the person and their motivations" – Anthony Bunn, Albury
"Interesting collection of high achievers and compassionate Australians who have made our culture all the richer for their contributions" – Gail Van Zeist, Shepparton
"Thank you for the opportunity to view these works in a regional location. Each of these identities has been well chosen to reflect the diversity of Australian character and achievement" – Ronald Richards, Tatura
The exhibition kicked off with a joyous soundscape provided by the Wangaratta Ukulele Band and a mind nourishing opening by guest speaker Dr Rebecca Coates, Director,
Shepparton Art Museum
– reminding us of how treasured and thriving Victoria's regional art galleries really are. In April, Curator
Alex McCulloch
descended upon the the gallery for a public talk. I really enjoyed Alex's take on a traditional floor talk. Far from going through the motions, he delivered an in depth analysis of two of the portraits, most notably, David Walsh. Alex had been involved in preparing Vincent for this portrait so had a rare insight into the magnetic Australian, the Founder of MONA, Tasmania. Alex said of Walsh, 'he wants us to think anew and create in a unique and original way'. No doubt, zingy morsels like this gave all in the room much to mull over. The activity didn't stop there, later in the month, artist Jennifer Paull led a children's workshop designed to explore approaches to drawing and painting the face. This is what makes Wonderment Walk works so dynamic – they appeal to and can impact the lives of people of all ages, all of those with inquisitive minds and rambling imaginations. We are passionate about activating our artworks so that visitors may strengthen their connection to their community, their interest in art and science and to learning and knowledge. Attendance was strong in the Simpson Gallery during during the March and April exhibition period as was the interest of the
press
. We were most enthused to hear a glowing report from the Gallery's Director at the conclusion of the exhibition – "We were delighted to be able to work with Wonderment Walk Victoria to include
Vincent Fantauzzo: 30/30 Project
in our exhibition program. The exhibition was very successful with high visitation, numerous positive comments and public engagement in related programs and events. Wonderment Walk was an excellent partner in the management and success of this exhibition at Benalla Art Gallery" – Bryony Nainby.
– Julia Mihai, Project Manager, Wonderment Walk Victoria